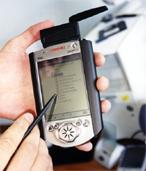 Using PocketLANce on Pocket PC device along with mobile phone you obtain truly wireless access to the LAN.

To setup such connection type, follow setup instructions for RAS/DUN service as described in radras.doc file supplied with Microsoft ActiveSync package (you can find the text of this file here as well). To adjust settings of dial-up software on your Pocket PC fulfil the steps described in the Help menu in the ActiveSync window. Open the "Connecting a Mobile Device to a Desktop Computer" chapter, and follow the instructions in the "Connect to ActiveSync using a Modem" topic.

In the field 'Select a modem' specify either "Generic IrDA Modem" if the connection is performed through infrared port or the proper modem type, detected by installing of communication hardware.

Having adjusted all settings, you can connect to remote computer by tapping the icon 'ActiveSync' in the 'Connections' dialog window.