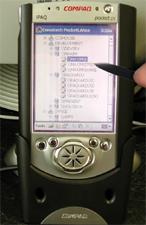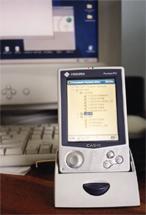 BROWSING LAN WITH NO EXTRA EQUIPMENT

Working in Cradle Mode: browsing your local network on your Pocket PC with no additional equipment. This connection type is optimal regarding hardware cost (since only standard equipment supplied with Pocket PC device is used).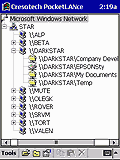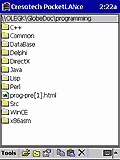 SAME FAMILIAR INTERFACE - ON POCKET PC

Left picture: Local network structure in PocketLANce is represented as a tree. You can navigate the tree by tapping with the stylus on corresponding network components or using navigation buttons at the bottom of the screen. Right picture: List of the files and folders containing in a shared network folder. At the bottom of the screen are the file operation buttons.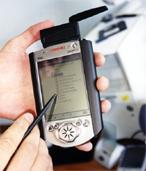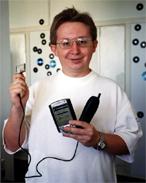 WIRELESS ACCESS TO YOUR LAN

Mobile communication means, both usual mobile phones and special GSM cards for Pocket PC may be used for wireless access to LAN through PocketLANce. Left picture: Combining your PocketLANce and Pocket PC with GSM card (Nokia PhoneCard 2 is featured on the photo) you are getting a real wireless mobile networking solution. This way is most efficient, all the components are integrated, making things much easier than with common mobile terminal. Right picture: the combination of CF modem and mobile phone is cost efficient solution too. The picure shows the connection option for mobile phone without infrared port through Xircom CompactCard GSM.



INDUSTRIAL STANDARD POCKET PCS

PocketLANce provides corporate users equipped their representatives with Industrial Standard Pocket PCs with the access to corporate data according to their access rights (Symbol Pocket PC is shown on the photo).

BROWSING LAN VIA MODEM&COM CONNECTION

PocketLANce solution through CF port/CF modem: a cost-effective option for accessing your site office documents from elsewhere. The usage of common modem along with CF port is possible. Right photo below shows conventional external modem connected to Socket Com expansion card. This is very convenient way to perform the remote RAS-server connection setup in this manner before trying other variants of remote connection.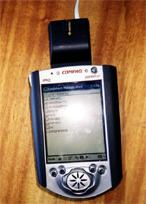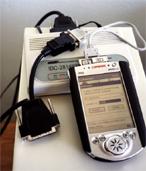 MANAGE YOUR DATA EASILY

Left picture: Using 'Properties' from the context menu or corresponding toolbar button you can obtain information on selected network component such as name, type, and location. Right picture: Tree like representation of the network structure while copying/moving files and/or folders from network to the Pocket PC makes navigation much easier.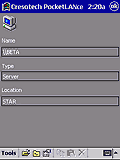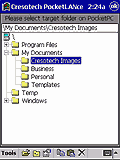 MOBILE PHONE WITH INTERNAL MODEM



One of most attractive for mobile users LAN access solutions with PocketLANce: mobile phone with infrared port and GSM modem (Siemens S-25 on the photo) and Pocket PC (Casio Cassiopeia E-125 on the photo). Pocket PC uses the mobile as modem for remote access to RAS server.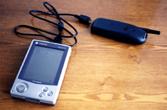 For mobiles without infrared port but with modem, connective cable can be used to establish the connection between Pocket PC and mobile.



LAN CONNECTION RATE IS SAME AS FOR DESKTOP PC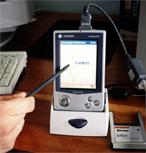 Combined with your network card, PocketLANce browses you through your LAN really swiftly, comfortably and efficiently, adding more value to your network card. On the photo: Network card (Xircom CompactCard Ethernet 10) is attached to Pocket PC (Casio Cassiopeia E-125). LAN connection rate is the same as for common desktop PC.