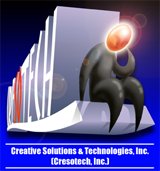 Wireless connectivity and PDA devices are key elements in the growing number of mobile enterprise solutions. Being aware of this situation Cresotech, Inc. has developed an innovative Pocket PC based mobile LAN networking application - PocketLANce. This application along with PocketLANce Software Development Kit delivers great flexibility to the Pocket PC based corporate systems, allowing corporate users to add a variety of capabilities via ActiveSync cradle connections, PC Cards or Remote Access Service. One such capability is wireless access to the corporate LAN.

Cresotech, Inc. provides the expertise in implementing mobile computing solutions in a variety of vertical market segments including the goods distribution and van sales, medical materials distribution and marketing networks, general promotional activity. These areas are good examples where the power of the mobile wireless solutions and laptop / pocket PC based software can deliver real benefits to the corporate users and to their customers, as well as individuals.

Cresotech, Inc. is currently concentrating on providing both mobile wireless network solutions and PDA based software for business and personal use. Our products will provide organizations a handheld computer solution that will improve productivity, enhance customer service, and reduce costs.

We do always welcome new business opportunities and are looking for new business partners. Do you have an idea you want to develop together with us? Are you looking for somebody able to design and develop special software to satisfy your current needs? Do you want to distribute our products? Just contact us - we are always glad to hear new offers.