MODEM&COM : A COST-EFFECTIVE OPTION FOR ACCESSING YOUR DATA FROM ELSEWHERE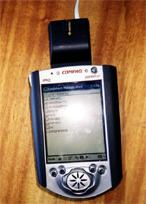 With Microsoft ActiveSync 3.1 and Cresotech PocketLANce you can establish connection without cradle using remote modem connection. It allows to remotely access network resources.

To set up this type of connection, adjust remote access service on your desktop PC. Depending on operating system it can be either Remote Access Service (RAS) for Microsoft Windows NT/2000 or Dial-Up Networking (DUN) for Microsoft Windows 95/98/ME.

Let us consider RAS adjustment since it is most robust and popular service.

To setup such connection type, follow setup instructions for RAS/DUN service as described in this file (the text is from standard radras.doc file supplied with Microsoft ActiveSync package).

To adjust settings of dial-up software on your Pocket PC fulfill the steps described in the Help menu in the ActiveSync window. Open the "Connecting a Mobile Device to a Desktop Computer" chapter, and follow the instructions in the "Connect to ActiveSync using a Modem" topic.