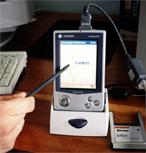 Connection is being established in a similar way to the previous case, but a network adapter of PocketPC Network Card format is inserted into the Pocket PC, which is placed in its cradle. It allows enabling all capabilities of your network adapter as well as increasing the speed of network resource access.

To activate this type of connection, check "Connection Settings" of ActiveSync and make sure that in addition to standard cradle connection option (e.g. "Allow USB Connection with desktop computer") networking support option (i.e. "Allow network (Ethernet) and Remote Access Service (RAS) server connection with the desktop computer") is activated (refer to Figure 1 to the right).

Having read documentation provided by manufacturer, install network card. Install required drivers as it is stated in documentation. But in most cases network adapter is identified automatically and its name is displayed. Confirm this name. Specify proper parameters of your network in the "NE2000 Compatible Ethernet Driver" dialog box. If IP addresses are assigned in your network automatically, leave "Use server-assigned IP address" option enabled. Otherwise manually enter IP address and subnet mask and confirm changes by clicking OK.

To make changes active, disconnect ActiveSync and restart your Pocket PC device. When you reestablish cradle connection to your desktop PC, installed network card will be enabled increasing synchronization speed and improving data interchange when using PocketLANce.

IMPORTANT NOTE: Starting from version 1.05, PocketLANce can work without ActiveSync connection when using network cards. So, if the network card is installed, placing your Pocket PC into cradle is no more necessary.

Other efficient way of wireless operation mode is based on the use of RAS/DUN technology.


Figure 1: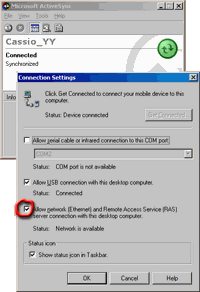 Figure 2: